Full Stack Engineer (Tallinn or remote)
Katana is on a mission to build software manufacturers will love as much as the products they make. 

Since 2017, we've given manufacturers worldwide a live look at their business, uniting all the processes and tools they use with intuitive and easy-to-use ERP software. Our customers range from hobby makers to multi-million-dollar manufacturing businesses. To date, we raised over $51 million in funding from VC firms and angel investors who, like us, believe the manufacturing software space needs more love.
Our customer base is growing rapidly, and the same goes for our product. We're launching new features and updates every week, and there's no plan to stop anytime soon. This is where you come in.
Who we're looking for
We're looking for experienced software engineers to join Katana's fast-growing Engineering team. If you're eager to make an impact and shape the future of manufacturing and up for the challenges that come with building complex software, you found the right place!
As a member of our Engineering team, you get to focus on working on one of the following product areas: Manufacturing Resource Planning (MRP), Shop Floor Control (SFC), API, Sales & Shipping, Accounting & Finance, Purchasing, plus the new challenges that always pop up —we open a new product team every quarter. 
Here's how each of our product teams spends their days:
Our Manufacturing Resource Planning (MRP) product team works on the backbone of every successful manufacturing business — live inventory and production management software.
Our Manufacturing product team works on mobile apps and services used on factory floors at workstations, warehouses, and more.
Our API product team is leading the efforts to grow Katana from SaaS to a platform from a public API that allows our customers to plug their favourite tools into Katana's manufacturing workflows to enable partners to build on top of Katana and boost the growth of new functionalities.
Our Sales & Shipping product team works on the processes related to receiving and fulfilling sales orders in the most efficient way possible to meet our customers' business needs. This involves ordering management-related functionalities and seamless integrations with major e-commerce and shipping platforms.
Our Accounting & Finance product team ensures that numbers add up all around Katana when the day is done. After all, reliable information is what makes businesses run smoothly. Apart from working with moving average cost calculations for inventory, you will integrate Katana with third-party accounting software to complete the full circle of the manufacturer workflow.
Our Purchase product team helps to manufacture run smoothly by ensuring that required raw materials and semi-finished goods are available. Many features under the Purchase product team are outward-facing and attract our customers' suppliers to begin using Katana.
The production revolves around inventory, which is where the Warehouse team comes in. We are responsible for stock overviews and traceability, ensuring Katana accurately reflects the actual warehouse situation. That way, manufacturers are confident in where each item goes and comes from.
You will be working with the following key technologies: React, Node.js, TypeScript, Postgres, and Kafka. Learn more about our tech stack and our Engineering team's way of working from our CTO Priit Kaasik here.  

Want to get to know the people you'll work with? Get an inside look into the life of our Product Engineering Leads Rivo here and Risto here.

What we're offering
We strongly believe that there are no perks in the world that create the same level of joy and fulfillment as doing meaningful work with an incredible team.
So instead of listing our perks and benefits, we'll share a few things that make Katana unique:
Join a team of skilled experts — Our team is made up of ex-Skype, ex-Pipedrive, ex-Wise, ex-Veriff, you name it. It's not our first race, and we know it takes the brightest minds to build a winning team. At Katana, you're surrounded by the brightest minds regardless of their field of work.
We're growing quickly but mindfully — We know that building world-class software is a marathon, not a sprint. To build smart software for our customers, we need to build a smart company for our people, where they have the freedom to do their best work and enjoy their life outside of work. We make no compromises when it comes to healthy work-life balance.
You still get the early-bird treatment — We're an early-stage startup, so you'll have a chance to be among one of the very first makers of Katana. Translation: a generous stock options package (on top of a competitive salary, of course). Win-win!

Sounds (too) serious? Well, worry not because we know how to have fun, too. You'll find all kinds of entertainers in our team, including stand-up comedians, opera singers, debt collectors, quiz masters, just to name a few.

Need more info? If after reading this you're still interested in the list of perks and benefits, you can learn more about them here: Careers @ Katana
Locations

Tallinn

Remote status

Hybrid Remote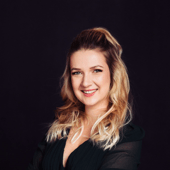 Contact
Kadri Alekõrs
Talent Acquisition Partner - Engineering and Product – People and Culture
Full Stack Engineer (Tallinn or remote)
Loading application form